Wrigley Field Sunset - July 2008
« Wrigley Done Right - Bar area | Main | Lou Piniella and Matt Sinatro get ejected »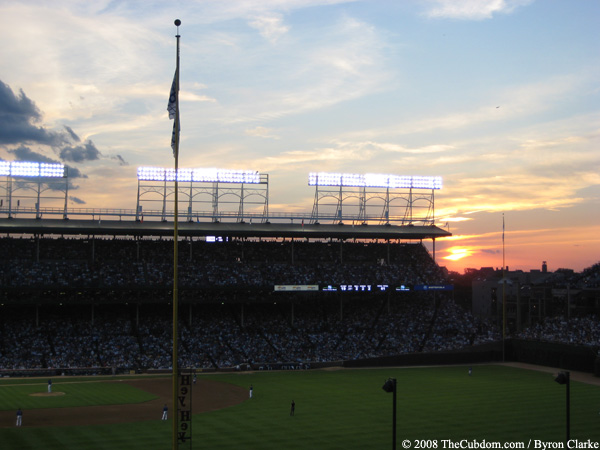 The Sun sets beyond the left field corner of Wrigley Field. This picture was captured from the Wrigley Done Right Rooftop.
« Previous Picture | Cubdom Photo Gallery Home | Next Picture »
Photo Information
Date: July 9, 2008
Location: Wrigley Done Right - 3621 N. Sheffield Avenue
Teams: Chicago Cubs vs. Cincinnati Reds,
Pictured: Wrigley Field, sunset
Wrigley Field Rooftop Review
Camera: Canon PowerShot SD1000 7.1MP Digital Elph Camera
Photo by Byron | |
Put this picture on your website!
TheCubdom.com licenses all images in the photo gallery for use by others. Just copy and paste the code in the box below into your page where you want the photo. The code may be altered, but each picture must include a backlink to TheCubdom.com. (You are not authorized to use any photo from The Cubdom without a backlink.)
| | |
| --- | --- |
| This post has been tagged: | |