Alex Rodriguez
« Bobby Howry throws the baseball | Main | Derek Jeter »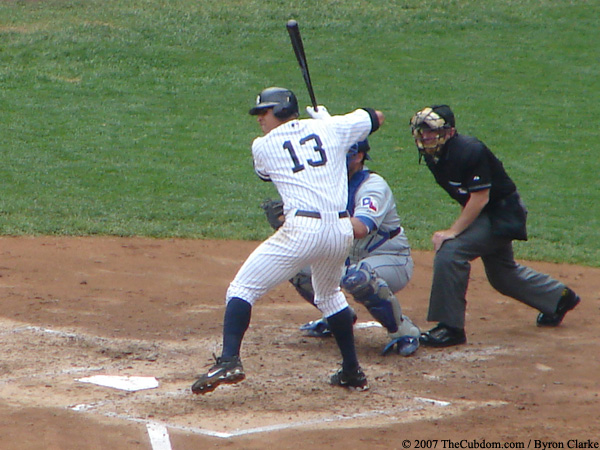 Alex Rodriguez bats in the fourth inning against Brandon McCarthy. Gerald Laird catches, and Lance Barksdale officiates. Rodriguez struck out in this at-bat.
« Previous Picture | Cubdom Photo Gallery Home | Next Picture »
Photo Information
Date: May 10, 2007
Location: Yankee Stadium
Teams: New York Yankees vs. Texas Rangers, Boxscore
Pictured: Alex Rodriguez (Yankees batter), Gerald Laird (Rangers catcher), Lance Barksdale (home plate umpire)
Camera: Sony Cybershot DSC-H1
Photo by Byron | |
Put this picture on your website!
TheCubdom.com licenses all images in the photo gallery for use by others. Just copy and paste the code in the box below into your page where you want the photo. The code may be altered, but each picture must include a backlink to TheCubdom.com. (You are not authorized to use any photo from The Cubdom without a backlink.)
| | |
| --- | --- |
| This post has been tagged: | |