Over the winter, I previewed the team in many of my posts. I've collected some of those posts and arranged them below for your viewing pleasure. To jump to a particluar post, use the link below, or scroll down through the posts and read. If you want to comment on the posts, please visit the individual post page to do so. Enjoy,
---
Cubs Batting Order Analysis - Part I
March 29, 2005
Lets go on a trip to Byron Land...

Dusty has been fired.
Byron has been hired.
There will be four general types of games this year:
#1: Days when Jerry Hairston Jr. (JHJ) starts at second.
#2: Days when JHJ starts elsewhere (LF, RF, CF, SS, 3B)
#3: Days when JHJ doesn't start, and Michael Barrett catches
#4: Days when JHJ doesn't start, and Henry Blanco catches
Lineup for situation #1: ~ 80 games
1. Jerry Hairston Jr.
2. Nomar Garciaparra
3. Aramis Ramirez
4. Derrek Lee
5. Michael Barrett
6. Jeromy Burnitz
7. Corey Patterson
8. Dubois/Hollandsworth
9. Pitcher
Lineup for situation #2: ~ 30 games
1. Jerry Hairston Jr.
2. Nomar Garciaparra
3. Aramis Ramirez
4. Derrek Lee
5. Todd Walker
6. Corey Patterson
7. Michael Barrett
8. Dubois/Hollandsworth
9. Pitcher
Lineup for situation #3: ~ 40 games
1. Todd Walker
2. Nomar Garciaparra
3. Aramis Ramirez
4. Derrek Lee
5. Jeromy Burnitz
6. Michael Barrett
7. Corey Patterson
8. Dubois/Hollandsworth
9. Pitcher
Lineup for situation #4: ~ 12 games
1. Todd Walker
2. Nomar Garciaparra
3. Aramis Ramirez
4. Derrek Lee
5. Jeromy Burnitz
6. Corey Patterson
7. Dubois/Hollandsworth
8. Henry Blanco
9. Pitcher
Here is why:
Color Code Key
Prime batting spot
Acceptable batting spot
Shouldn't be hitting here
Jerry Hairston Jr.
I can't think of a valid reason to have Hairston hit anywhere but as a leadoff man. Hairston should start 110 games this year, 80 at second base, and 30 at the other positions. He is the only prototypical leadoff man on the team, and his defense at second ought to be a consideration.
If for some reason JHJ isn't leading off, he would make a pretty good #2 hitter... but his gifts make him an excellent leadoff hitter.
Nomar Garciaparra
Nomar's bat is probably the most versatile on the team. With his hitting ability, one can make a solid case to have him hit anywhere at the top of the order. His OBP would qualify him to hit at the top of the order, but he has too much power, and doesn't see enough pitches to make him an ideal leadoff man.
Nomar's best fit is in the two or three holes. His high batting average makes him an ideal candidate to bat #2, while his power could certainly justify hitting him #3. In Byronland, he hits #2 to get Aramis Ramirez more at-bats.
Nomar's skills would also work well as a clean-up hitter, but his OBP is too valuable to have him hitting in back of the other sluggers in the lineup.
Aramis Ramirez
A fantastic hitter and an emerging slugger, Aramis Ramirez is the best bat in the lineup. However, he doesn't have the speed to hit #1 or #2, and the GIDP is a significant concern when he steps into the batter's box. Still, his power combined with the rare ability to not strike out makes him an ideal #3 hitter.
Obviously, he makes an excellent clean-up hitter, but he is such a good hitter, I want him hitting as high in the order as possible sensible.
Finally, because he's a bit slow (running), it could be understandable if he hit behind Derrek Lee in the #5 spot. Understandable yes, good idea? No.
Derrek Lee
Lee is an interesting hitter. He is incredibly enjoyable to watch. He's huge and his swing is very smooth. The ball flies off his bat, and when he hits line drives he is terrific. In addition to his batting, he has speed... although the current Cubs management hasn't asked him to use it much.
The combination of his speed, decent OBP (.356 last year), and power make him a good bet in the #2 spot. However, in this line-up, Lee fits better slotted behind Aramis Ramirez in the #4 spot. You may notice that I have said that Lee is better suited as a #2 and #5 hitter. However on this team, I like the versatility of Nomar and so have essentially removed the traditional #2 hitter. So, while Lee isn't what you think about when you think of a clean-up hitter... I think he fits into the Cubs lineup here.
Michael Barrett
Most people wouldn't think of Michael Barrett as a #5 hitter... but I think he would flourish in the role. Barrett has some power, 16 homers in 456 AB last year, but more importantly he shares a characteristic with JHJ, Nomar, and Todd Walker. He does not share this characteristic with Derrek Lee, Corey Patterson, or Jeromy Burnitz.
This trait is of course this: Michael Barrett doesn't strike out... or at least not to excess. I can't really see hitting Burnitz ahead of Barrett because of how many innings would end on Burnitz strikeouts.
As a hitter, Barrett is getting better and hopefully he'll get his OBP up to about .350 this year. Still, he makes contact more often than not, and so would work as a traditional #2 hitter, or in the latter half of the order.
Jeromy Burnitz
Burnitz is what the movies tell me a clean-up hitter should be. I'll have to find out if he chews tobacco, but he's a little ugly (sorry JB), looks scary, strikes out a lot, and hits homeruns. Think about the goon in Rookie of the Year.
Anyhow, despite his prodigous power, Burnitz strikes out too much to hit all that high in this order. I like him in the #6 spot, although he might also do very well hitting behind Corey Patterson... or more accurately, not clogging up the bases in front of C-Pat. Still, I'd like to see him hit ahead of Patterson because C-Pat does better (in my opinion) hitting in the bottom third of the order.
Corey Patterson
Patterson is still a young hitter, and I think he tries to do too much when he bats at the front of the order. His power is developing nicely, but he still strikes out way too much. Hitting Patterson in the seventh spot gives him the ability to try and clear the bases if he gets to bat with men on. However, hitting behind Burnitz and in the seventh spot, he's likely to lead off a number of innings.
With his speed, Corey can be the focal point of the bottom of the order as they try to manufacture a run. Let's face it. When the Cubs leadoff an inning with their #7 hitter, unless he goes deep, the #8 and #9 hitters will likely be asked to play a little small-ball and move the runner over. Hitting in the seven spot, I'm hoping to see a lot of second and third situations with one man out and the leadoff hitter up.
Jason Dubois
I'll say it again. Jason Dubois should be the everyday left fielder. He should break camp with the big league club. He should start at least 120 games in left... and he should hit in the #8 spot.
Dubois has talent, a lot of talent. He is the best looking Cubs prospect since Corey Patterson made his debut. I think he'll probably develop into a Jeromy Burnitz type of player. A decent, but not spectacular outfielder with 30+ home run power... and a few too many strikeouts.
As a rookie, he should be sheltered, but allowed to play most everyday. I like hitting young hitters down in the order, and Dubois is no exception. I also think hitting in the #8 spot will give him some good opportunities to swing away during the season.
Dubois is the real deal, we just can't expect a polished major leaguer this year. To those who would comment that its all fine and dandy to develop youngsters, just not in a pennant push... I would argue that the Cubs should be in pennant pushes for the next five or six years (at minimum) and now is as good of a time as any to get Dubois into the lineup.
That is it for today. Later, I'll tackle the bench.
---
Cubs Batting Order Analysis - Part II
March 30, 2005
Before we resume, lets review the color code key.
Color Code Key
Prime batting spot
Acceptable batting spot
Shouldn't be hitting here
Todd Walker
Todd Walker would be a starting second basemen on most clubs. Unfortunately for Walker, the Cubs off-loaded a future Hall of Famer for a super-utility player who has two redeeming characteristics:

He is a true leadoff hitter
He is an excellent second baseman
So, in Byron Land... and I suspect in Cub Land, Todd Walker is going to be riding the bench a few more times than he planned when he re-signed with the Cubs this winter.
Fortunately for Walker he also has two redeeming qualities

He bats left-handed
He can actually hit well. Both for power and OBP
In fact, Walker's high OBP would make him a prime candidate to lead off if JHJ isn't playing. However, his footspeed makes him a better candidate to hit as a traditional #2 batter.
If JHJ is also playing, Walker is better suited to hit down in the order in to allow the team's best hitters to get a few more at-bats. As a result, I see Walker hitting anywhere from 5-8. His best spots are probably 6 or 7, followed by the five hole and then the eight hole. I've got Walker in the five spot because I like his high OBP and decent speed. This would come in handy since he'd be hitting in front of Corey Patterson.
Todd Hollandsworth
Despite his stellar performance in an injury shortened 2004, Todd Hollandsworth is a .279/.336/.447 hitter (AVG/OBP/SLG). As such, I can't see hitting him any higher than sixth in the order.
As a hitter, Holly is pretty good at making contact, and is thus an effective hitter in small-ball situations. My gut tells me he would be best in the seven spot, but valid arguments can be made for having him sixth or eighth. If he continues hitting like he did last year, maybe #2, but probably not.
Finally, it should be mentioned that Hollandsworth is also a lefty. So in any lineup configuration, you'll want to make sure that he doesn't bat next to Corey Patterson or Todd Walker... a maxim which should be ignored from time to time.
Henry Blanco
I can't say I've ever seen him hit except for a handful of at-bats this spring. So, at the risk of stereotyping... he should never hit anywhere but #8. He's a catcher, and he has a career .216/.288/.356 line. So, really, he shouldn't be batting at all... but since Michael Barrett can't be expected to catch 162 games... when he bats, its #8.
Jose Macias & Neifi Perez
No, I did not forget to color in the boxes... they are all black, indicating neither of these men should ever bat... in any situation. Here is why:
Jose Macias career: .257/.301/.378, 39 sb, 18 cs, 1469 AB
Neifi Perez career: .269/.301/.380, 48 sb, 40 cs, 4190 AB
These lines are scary bad. I don't think either belongs on the club... but if we're voting, I'm voting Neifi off the island. Macias brings more defensive flexibility, a stronger arm, and a better stolen base percentage indicating either more speed or better base running judgement. At one point this season, one of these guys will be called upon to pinch run, and that could mean an extra win. So Neifi loses out when the Cubs keep Dave Hansen.
Dave Kelton
If he makes the club, he should only bat eighth. He is a rookie and he doesn't have speed... or a track record of being a top of the order guy. I have a feeling the question will be moot as I can't imagine he'll be on the big-league roster after tax day.
Dave Hansen
If Hansen makes the club, he could potentially transform this team from a good team to a great team? Why? Well, he is one of those veteran professional hitters who can hit off the bench and spell Aramis Ramirez at third... without letting Jose Macias bat. (That alone could be worth 3-5 wins.)
Hansen's career line is a respectable .264/.365/.374. Oh, Did I mention he bats left handed?
As for lineup placement? Bottom half. Doesn't really matter where. I'd say because he is no speed burner, it might make sense to bat him seventh in front of a guy like Jason Dubois who can take a shot at the bleachers in front of the pitcher's slot in the lineup.
Look for Hansen to be placed on the active roster when he recovers from his appendectomy. I've got my money on Neifi Perez getting the axe, but it could just as easily be Jose Macias.
---
Cy Zambrano
January 27, 2005
I am so tired of Sammy Sosa rumors, I could... (this from the guy who dreamed up 28 trade scenarios... yeah, I know I'm part of the problem.)
Anyhow, with pitchers and catchers drinking their last off-season YooHoo's, its time to start reviewing some personnel profiles. For those of you breathlessly awaiting the final installment of my Cubs Convention reporting, I'll probably get to it this weekend.
In the mean time, I'll post some charts of Carlos Zambrano's rate stats over the past three years.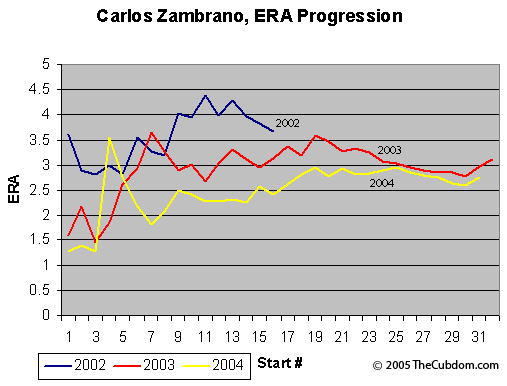 Zambrano's ERA progression over the past three years is impressive and indicates a pretty good career path at this point. Even in his first season as a starter (Zambrano started 16 in 2002) he had an ERA below 4.00. In each season he has lowered that ERA and has been consistent throughout the year (i.e. not a great start and lousy finish or vice versa).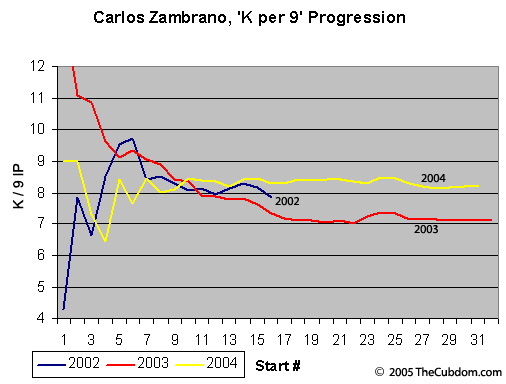 Again, Z's strikeouts per nine ratio is also indicative of good things. Although it declined in 2003, he lifted it nearly a full K/9 in 2004. Furthermore, Zambrano's ratio is so high that quibbling over a half point isn't worth your time.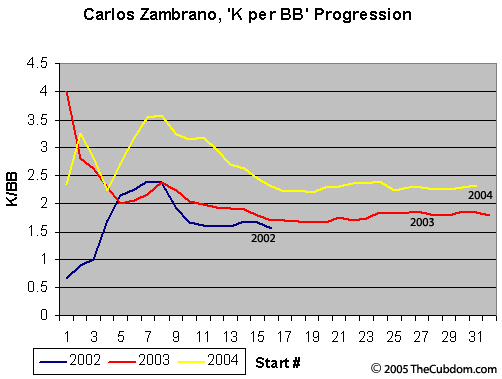 Like the other rate stats, the K/BB shows improvment each year. Carlos is improving his control.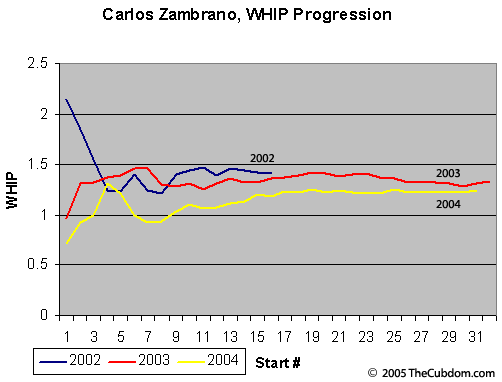 And finally, a quick peak at WHIP reveals the same steady progression over his three years as a starter.
---
Markie Franchise
January 28, 2005
Some more analysis through charts. Today's subject: Mark "The Franchise" Prior.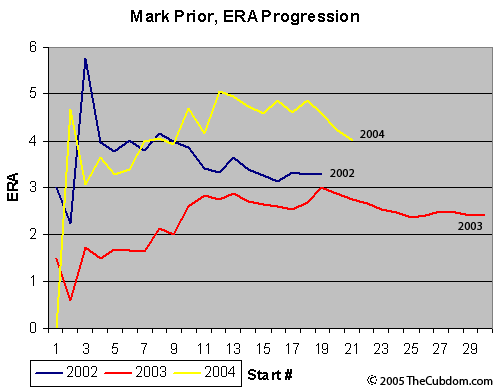 The first thing I notice looking at this chart is the shorter lines for 2002 and 2004. Prior is in his third season as a starter, but has failed to remain perfectly healthy in any of the three. His first start was May 22, 2002 and he started 19 more before being shut down for the season on August 31 with a strained left hamstring.
In 2003, he collided with Marcus Giles and was out of commission from July 11 through August 5. Whats suprising though, is even after taking a month off in the middle of the season, he still started 30 games in 2003.
In 2004, we all remember the achilles tendon injury and the daily Prior updates. He returned in early June and pitched for the rest of the season.
Tracking his ERA across the three seasons shows a fair amount of in-season fluctuation in all three years. However, unlike Zambrano who has an upward sloping ERA towards the end of all three seasons, Prior appears to be a strong beginner and finisher, but his seasonal ERA has peaked towards the middle of each season.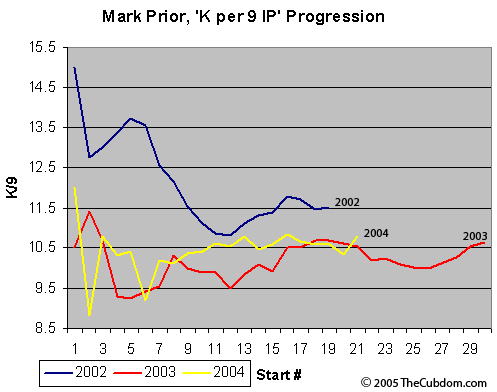 Take a glance at the axis labels on this chart! Off the wall. I started the minimum at 8.5 K/9. Essentially, Prior has gone his entire career striking out at least one batter per inning, and often times a few extra during the game.
Aside from 2002 where Prior started off by striking out an astronomic number of hitters, he has been rather consistent throughout his three seasons. My guess is that Prior was getting several K's in his first few starts from batters who had never seen him, or video of his pitching. After the batters adjusted, and he re-adjusted he settled pretty consistently into his normal 10.5 K/9 IP.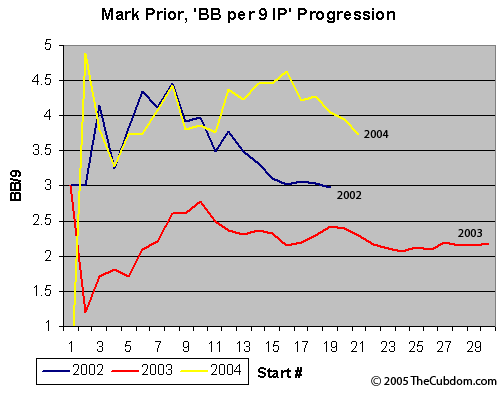 This chart is troubling. Prior walked about 1.75 batters more per nine innings in 2004 than he did in 2003. In fact, Prior's 2004 chart is nearly identical to his 2002 line, until about the 12th start. After the 12th start, 2002 Mark Prior virtually stopped walking guys while the 2004 Mark Prior took 16 starts before he noticably improved his control.
Even more interesting, the 2003 Prior showed the same in-season progression as 2002 and 2004, but about a walk and a half lower. However, with two of the three seasons showing dangerously high levels of walks, I would suggest Mark move down the bench a couple of seats and sit nearer to Greg Maddux than Kerry Wood.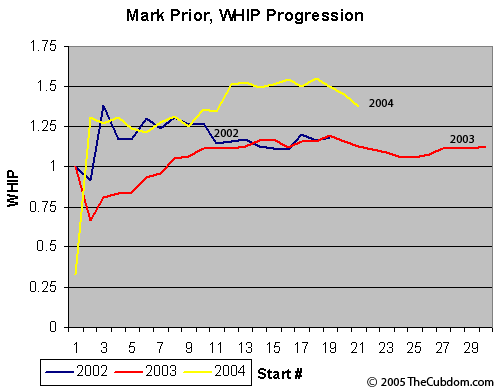 The WHIP (Walks + Hits / Innings Pitched) lines for each three years are eerily similar. Again, Prior started all three seasons well, struggled a bit during the middle of the season and finished strong. His 2002 and 2004 seasons began almost identically, and the 2002 and 2003 seasons were similar in the way they ended. The worrisome issue of course is that Prior's 2004 season ended with a quarter of a man extra on base per inning than in 2002 and 2003.
Taken together, the four charts show us the same thing we already knew intuitively. Mark Prior has a ton of potential and looked like he was realizing it late in 2002 and throughout 2003. However, during the 2004 season, Prior struggled and looked much more pedestrian than a guy with the nickname: "The Franchise."
All that said, I told Miss Fantastick last week that I thought Prior had a great shot at winning the Cy Young award this year... if Carlos "Cy" Zambrano doesn't beat him to it.
Posted by Byron at Permalink
---
Woody Review
February 09, 2005
Yes, the Farns was traded today. He'll be a Tiger next year, and the Cubs will receive Roberto Novoa, Scott Moore, and Bo Flowers. If these names don't mean anything to you, you're not alone. However, I have it on good information that these individuals are a reliever, a third baseman, and an outfielder. That said, we now return to our regularly scheduled programming: Kerry Wood.
Kerry Wood, the great Cubs hope has had an on-again-off-again career with the Cubs. He has been slowed by injuries during his career and has always shown tremendous potential. Well, a quick peak at some of his most important rate stats over the past three years indicate that he has settled down and gives us a good idea of what we can probably expect for the next few years.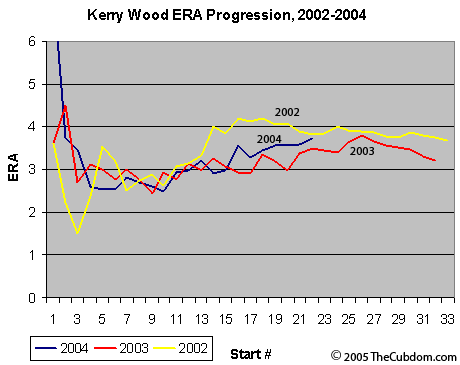 This ERA chart shows three very similar years. Although 2002 started well, 2003 and 2004 saw ERA spikes at the beginning of the seasons. However, after a few games, the numbers are all virtually identical by the eighth start. After that, Wood's seasons have all played out pretty similarly. He was noticably better in 2003 than he was in 2002, and his 2004 season 'seams' to lie in the middle :)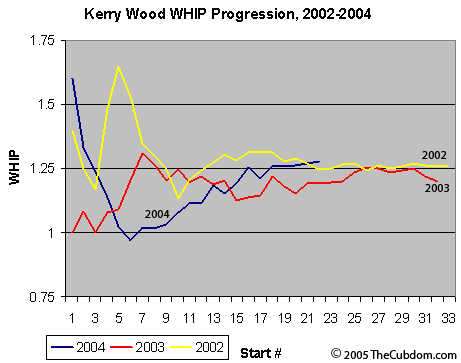 The WHIP progression shows a suprising amount of variance early in each of Wood's previous three seasons. His 2002 and 2004 seasons show some early season inconsistencies. In '02 Wood had some very good games, and some very bad games, making his line look more like a heart beat than a curve. In 2003, Wood was fairly consistent throughout the season after a strong start. In 2004, Wood had the same strong start but had consistent trouble keeping men off the bases after his sixth start. However, he ended all three seasons with virtually identical WHIPS of about 1.25.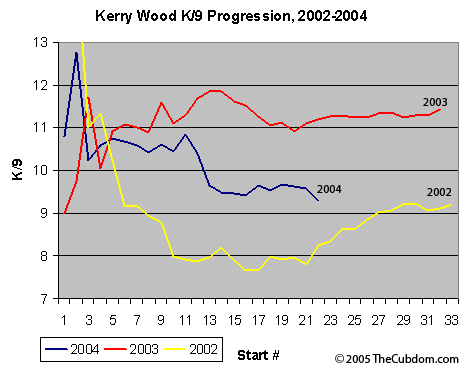 Wow! After the first couple of graphs looked like a rope of three cords, this chart has got a significant amount of seperation. In 2002, Wood 'struggled' to strike guys out, 'only' striking out about one batter per inning. His final total was helped by a late season push, but he spent a third of '02 below 8 K/9.
In 2003, Wood started striking out opponents at an amazing clip of 11 K/9. He was above this threshold nearly the entire season and showed a rather consistent rate throughout the year.
In 2004, this rate declined a bit and he finished the season at about 9.5 K/9. However, he suffered a pretty significant decline half way through the season. This decline coincides with his return from injury in 2004.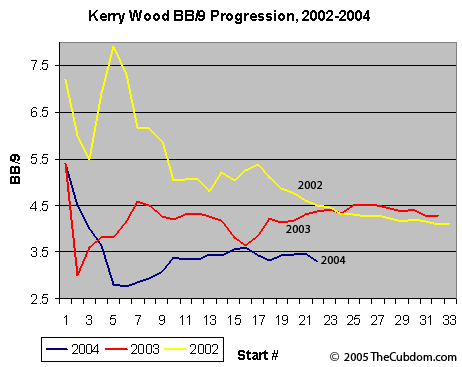 This last chart shows Wood's BB/9 rates from the past three years. Although there is some significant seperation between the three years, Wood finished 2002 and 2003 with similar numbers. In each of these seasons he walked about 4.5 men per 9 innings. However, he dropped that ratio by a walk per game down to 3.5 in 2004.
On the surface, this looks promising as Wood has always struggled with his control. Indeed for a pitcher with a 1.25 WHIP and 4.5 BB/9, two fifths of his runners are allowed via the free pass. So, if a pitcher suddenly starts walking a batter less per game, his WHIP should fall about a tenth of a point.
Wood's 2004 WHIP, as we already saw was virtually identical to his WHIP from 2002 and 2003. So, Wood is giving back that extra tenth of a point in WHIP to opponents hits.
Indeed, a quick check of the numbers shows that opposing batters hit .244 against Wood in 2004. In 2003, batters only achieved a .203 BAA, which was down from .221 in 2002. Wood's career BAA is .214, so his 2004 season was a full 30 points over his career mark.
Needless to say, this increase in opponent's batting average is quite concerning. I wonder if Wood eased up in three ball count situations attempting to avoid walks, and instead allowed hits.
---
A graphical look at Maddux' Career
February 27, 2005
I wanted to do something a little different for my look at Greg Maddux. So rather than charting progressive statistics for the last three years, I figured we would look at Maddux' key stats over the course of his career.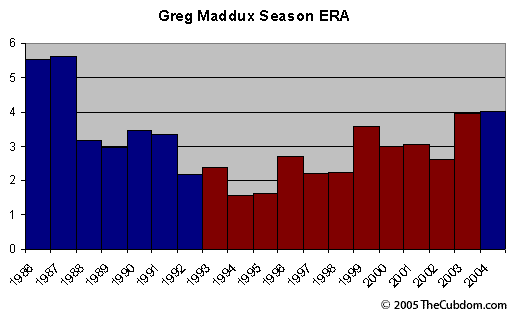 First, the blue bars are the seasons he played with the Cubs, the red seasons represent his time in Atlanta. I guess it looks like Maddux just got worse the longer he was in Atlanta...

Check out the axis labels. Maddux' ERA was below 4.00 each season from 1988 - 2003. From '92 - '99 he finished below 3.00 each year.
So, where do I see Maddux finishing this year? I *hope* he finishes with a 3.75, I wouldn't be suprised if he finished with a 4.25 ERA. Reasons? Eh? I don't know.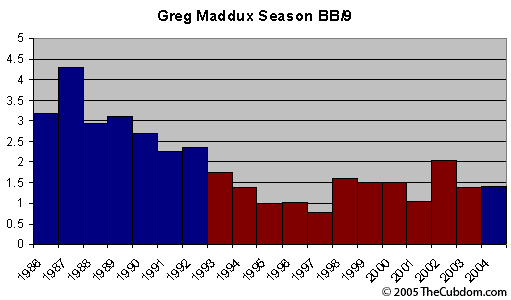 This chart suprised me a bit. First, because Maddux was still gaining his control from 1992 - 1995 while he was busy winning his four consecutive Cy Young awards. Second, I am suprised that his walk totals are as low as they are this late in his career. His walk totals for each of the last two years are approximately what they have been for the last decade.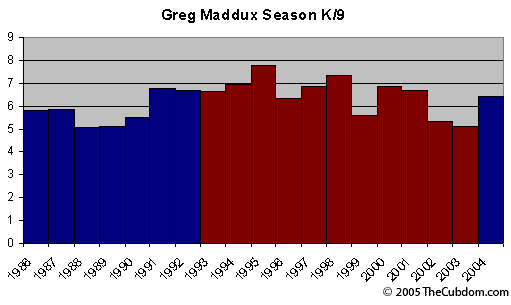 Sitting on the bench with Kerry Wood, Mark Prior, and Carlos Zambrano seemed to make a difference last year. Maddux K/9 rate jumped a strikeout per inning last year. My guess? The clubhouse pitcher's pool included strikeouts as one of the categories.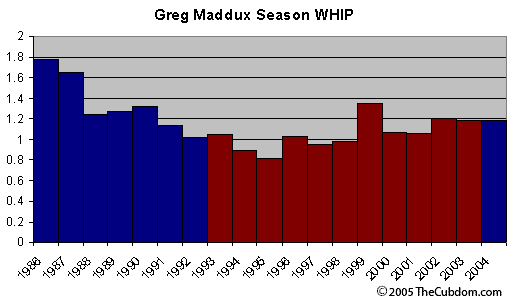 This chart is pretty much what I would have expected given the other charts we have seen. However, combined with Maddux continued low Walks per nine stat, we can correctly realize that the Professor's batting average against stat has been rising since the mid '90s.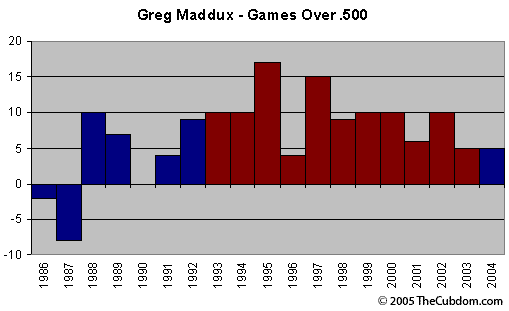 In view of the Cubs 89-73 finish in 2004. Maddux accounted for five of the 16 games above .500. Cover your ears statistical critics... this guy knows how to win. However of note, Zambrano finished 8 games over .500 and Prior 2. Is this stat worth anything really? Glendon Rusch and Jon Leicester both finished 4 games over .500.
So, maybe games over .500 in any given year aren't the best indicator of success, but lets look long term. For his career, Maddux comes in at a stellar 305-174. The bad news? Of those 131 career games over .500 only 25 were in a Cubs uniform. Thanks Larry Himes... that sure was a good call!
Greg the Cub, 111 - 86, +25, .563 winning %
Greg the Brave, 194 - 88, +106, .688 winning %
Greg the Maddux, 305 - 174, +131, .637 winning %