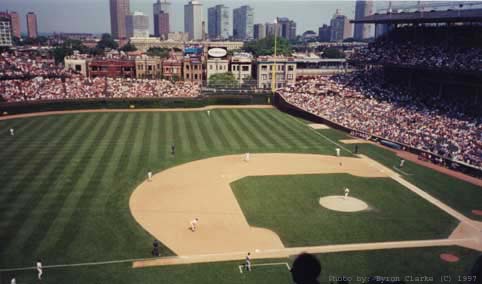 2006 Wrigley Field Attend-O-Meter
See Previous Cubs Attend-O-Meters: 2003, 2004, 2005
Chicago Cubs attendance statistics for 2006
Chicago Cubs 2006 Wrigley Field attendance:
3,123,215
The Cubs played a single-gate double header against the Diamondbacks on August 3rd, leaving them with only 80 home gates in 2006.
Average attendance per game at Wrigley Field:
39,040
Attendance as a percentage of capacity:
94.70%
This number is found by dividing total attendance by the product of Wrigley Field seating capacity (41,225) and the number of home gates collected.
Home Games (Gates) Played:
80
Maximum Single Game Attendance:
41,698 - Sunday, May 28th
vs. Atlanta
Minimum Single Game Attendance:
27,105 - Thursday, September 7th
vs. San Diego
Median Single Game Attendance:
39,825
The median number of a set of data is the data point with an equal number of greater and lesser points in the data set.
Cubs Estimated 2006 Ticket Revenue:
$107,126,275
Year to date ticket revenue estimated by multiplying paid attendance and average ticket price ($34.30) as reported by Team Marketing Report. (See the Cubs Average ticket prices from 1991-2009.)
The Cubs must also pay taxes and a percentage of this money to opponents out of their ticket revenue. Estimated ticket revenue does not include concessions. Estimates also do not reflect differences in revenue for Value/Regular/Premium ticket dates.
Cubs Home Attendance by Day of the Week

 

MON

TUES

WEDS

THURS

FRI

SAT

SUN

#

7

13

11

10

13

13

13

Attendance

269,407

489,425

420,209

379,977

512,916

529,618

521,663

AVG/gate

38,487

37,648

38,201

37,998

39,455

40,740

40,128
Cubs Attendance by Game Time

 

Day

Night

#

53

27

Attendance

2,093,900

1,029,315

AVG/GATE

39,508

38,123
Cubs Attendance by Day of Week and Game Time

Day of the Week

Mon

Tues

Weds

Thurs

Sun

# Night Games

5

11

8

1

2

# Day Games

2

2

3

9

11

Night Attendance

191,341

413,607

304,025

40,346

79,996

Avg/Night Game

38,268

37,601

38,003

40,346

39,998

Day Attendance

78,066

75,818

116,184

339,631

441,667

Avg/Day Game

39,033

37,909

38,728

37,737

40,152