Cubs Ticket Price Articles
---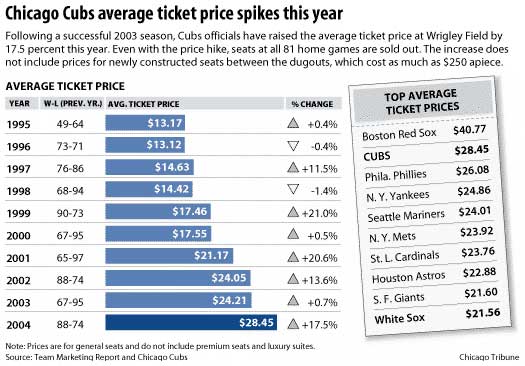 http://chicagosports.chicagotribune.com/sports/baseball/cubs/cs-040412cubswrigleytickets,1,793732,print.story?coll=cs-home-headlines
Retrieved 4-12-2004
Wrigley is tough ticket this season Only seats left are obstructed-view
By Jon Yates and Gina Kim
Tribune staff reporters
April 12, 2004
For the kids at the Neighborhood Boys and Girls Club, a trip to Wrigley Field has been an annual rite of summer, a tradition that stretches back to the club's inception more than 70 years ago.
But with the Cubs and their fans still giddy from last year's playoff run and expectations sky-high, the stadium is essentially sold out for the year, leaving many fans and groups like the Boys and Girls Club shut out.
As the Cubs prepare to open their home schedule Monday against the Pittsburgh Pirates, team officials say demand for seats has far outstripped supply. Between 35 and 40 percent fewer tickets were offered to groups this year, in part because season ticket sales shot up 37 percent.
Even some of the largest tour groups have been told there are fewer tickets available, and those that are able to buy them will pay more.
Call it the cost of success.
According to the local research group Team Market Research, the average ticket price at Wrigley went up 17.5 percent this year, and that doesn't include newly constructed "dugout" seats, which sell for up to $250 a piece for the most popular games. Those are sold out too.
Fans will pay a quarter more for beer in the stands, rooftop owners are charging more, and ticket brokers are licking their chops, assured business because many die-hards have no place else to go.
"We've wanted a winner all these years and now we're on the brink of one and so I guess that goes with the territory," said Jim McNulty, executive director of the Neighborhood Boys and Girls Club, which could not get tickets to a Cubs game this year.
Instead the club, less than 2 miles away from Wrigley Field on Irving Park Road, will bypass the Friendly Confines and take the kids to a White Sox game instead.
It is, the club's program director said, the end of a North Side tradition.
"Those are our Cubs," Bonnie Werstein said. "What's summer about? It's about going to the Cubs games."
Not this year, at least not for some fans.
"I'm just going to be looking for tickets anywhere I can find them," said Ken Wisniewski, 54, of Schaumburg who tried, in vain, to get tickets at the Wrigley Field box office Friday.
`One of us can see, sort of'
Wisniewski, who has been going to Cubs games since he was 10, has never had problems getting seats in years past. By Friday, however, a sign in the ticket window said all 81 home games are sold out, except for obstructed-view tickets behind a pillar or pole.
"Who's going to stand behind a pole to watch a game?" asked Adam Garza, 24, of Chicago after walking away from the ticket window empty-handed.
Some people are willing. Ann Morici bought $156 worth of obstructed-view seats Friday, figuring it was better to have a bad seat in the ballpark than miss the games completely or have to watch them on television.
"Just so one of us can see, sort of," said Morici as she bought the tickets. "I'm a teacher. In the summer, I'm used to coming down here and just getting seats, no problem."
Cubs officials acknowledge that some longtime fans will be left out in the cold, but they say there's little they can do about it. The team used to hold at least 10,000 tickets for sale on game day, but that ended in the early 1980s. Now on game days, the Cubs sell only a smattering of seats returned from visiting teams and other sources, and standing-room-only tickets.
Besides obstructed view, all other seats are gone.
"We didn't have a supply of tickets to meet the demand," said Frank Maloney, director of ticket operations for the Cubs. "We feel sorry for the people who have been coming for years. But we can't apologize for the demand."
The Cubs are owned by Tribune Co., which also owns the Chicago Tribune.
Even the Cubs' biggest customers are feeling the pinch. Tri-State Travel in Galena, a tour company that usually buys about 10,000 tickets for games at Wrigley every year, was only able to get about 7,500 tickets this season.
"In years past, we've been able to order as many tickets as we wanted to any game we wanted," said David Lange, the company's general manager. This year, he said, "we were shut out on some dates."
Miller Park time
Demand from their customers, however, has increased, so the company has worked out a deal with the Milwaukee Brewers. Tri-State is now booking tours to Miller Park when the Cubs play there. Lange said the company has already sold about 1,000 tickets to the July 5 game in Wisconsin.
For those who want to go to Wrigley but don't already have tickets, brokers are waiting. Steve Buzil, office manager of Advantage Sports, just a baseball's throw from the stadium at 955 W. Addison St., said business has already been brisk.
He's charging about 30 percent more for tickets this year compared with last, with the cheapest seats to less popular games going for around $45.
"There's about 8 million people in the surrounding areas and you've got 40,000 seats a game and you've got one of the hottest commodities in the country," Buzil said. "It's going to be a phenomenal season."
Don't tell that to the folks in Dyer, Ind. For years, the town's parks and recreation department has loaded up a bus with residents and gone to one game a summer. This year, they were unable to get tickets.
"I can understand it," said Mark Heintz, the department's superintendent. "But it's disappointing because we did a bus trip every year regardless of how good or bad the team was."
Philip and Barbara Clarke have sat through many a bad year. The Clarke family has owned season tickets in the front row behind home plate every year since 1933. This year, the Cubs put three rows of "dugout" seats in front of them, 213 seats that sell for between $50 and $250 a seat, depending on the game.
More than 130,000 people sent in e-mails just for the chance to buy the new seats, which sold out for all 81 games in less than three days. Now the Clarkes, who for seven decades have had the best seats in the house, will watch home games from behind other fans.
"We're now in the fourth row," Barbara Clarke said. "We're not happy that it's changed, but we can understand why they needed to do it to get more revenue."
Prices have also gone up outside the ballpark, as demand has increased significantly for rooftop decks. Some rooftop owners said they have raised prices about 25 percent--most of which will go to pay the 17 percent fee they must pay the Cubs under a recently signed agreement.
Mark Schlenker, owner of Brixen Ivy at 1044 Waveland Ave., said he figures to sell out for the entire season by the end of the month. Most years, it takes him all summer. Schlenker said he will keep his tradition of giving away his rooftop eight times to charity, but for other games, he's boosting the price.
"This is America. Basically, the public sets the price," said Schlenker, who sells most games for about $125 a person. The calls have come so fast, he's had difficulty keeping up.
"By May 1, I'll probably just turn off my phones," he said.
Katina Callas, manager of the Ivy League Baseball Club at 3637 N. Sheffield Ave., said she hiked prices the 17 percent she has agreed to pay the Cubs--plus a little more because of increased interest.
"It's called supply and demand," Callas said. "It's a very hot season."
Darren Radde already knows that. Radde, 34, of South Bend, had hoped to get tickets to a few games, but found nothing available when he went to the box office earlier this week.
"The days of bleacher seats being open on game day are gone," a dejected Radde said. "I'm happy for them, but I think they should reserve tickets for die-hard Cub fans."
This year, there are many.

Copyright © 2004, The Chicago Tribune