Ryne Sandberg Hall of Fame Archive
Below are many of the articles that were run in the Chicago and National Newspapers following Sandberg's election to the Hall of Fame. I have done nothing but copy and paste these. I have placed them on this site because newspapers tend to take things down after a while, and these articles should be preserved for all eternity.
---
Nice guys finish in Hall
January 5, 2005
BY RICK TELANDER SUN-TIMES COLUMNIST
Chicago Sun-Times
Some things are just nice. Ryne Sandberg is in the National Baseball Hall of Fame. Third year of eligibility, 393 out of 516 votes (including this scribe's), just 45 years old, and now Ryno gets to walk around for many years in his modest, unassuming fashion and know that he is among the greatest.That's not going to be easy for him.

Modesty, self-effacement?

Put Ryno on that billboard, that dictionary page.

Did he know he was Hall of Fame-good all along?

"I never did think that,'' Sandberg said Tuesday night in a small meeting room at the O'Hare Marriott, after flying in from his home in Arizona. "And I don't think that today. I don't know if that will ever sink in, really.''

He stands here before me -- tall (ungodly tall for a second sacker, remember), still lean, dressed in black shoes, charcoal slacks, a blue shirt, black tie with thin white stripes and a Hall of Fame cap plunked on his lightly graying noggin.

"I'm glad they sent an extra large hat,'' he said. "Because I've got a big head. Even bigger tonight.''

That's as deep into bragging as the former Cubs star will go. Almost as far as his humor goes, too.

But think about it. Sixteen years in the bigs, National League MVP in 1984, nine Gold Gloves, highest fielding average ever for a second baseman (.989), most consecutive errorless games by a second baseman (123), 10 All-Star teams, NL home-run champ (40 in 1990).

And the arm?

Consider that Sandberg played in seven full seasons without making one throwing error.

The quiet guy from Spokane, Wash., broke the mold for the normal, scrappy, little second basemen then prevalent in the league.

He was 6-3 and lithe, and he made things look effortless.

Sourpuss critics now say he didn't fly around enough, didn't have the range, so naturally he wouldn't get many errors.

But why should a ballet dancer dive all over the place and get filthy with grass and dirt stains when a graceful, sweeping reach could cleanly do the trick?

Why should Michael Jordan play like Muggsy Bogues?

Humble guy

"He represented humility,'' said Cubs marketing director John McDonough, part of the Cubs contingent that has come to the hotel to honor Sandberg. "This is the era of self-promoters. But Ryne was a guy who hit a home run and put his head down and ran. In some ways, people held that against him. But it has turned out to be his greatest strength.''

Indeed, Sandburg stands at the podium and blushes so many times with the attention and the flattery and the applause that you might think he is a young girl being told for the first time she is pretty.

He thanks his wife, Margaret, for being with him. And she starts to cry.

The tears at the corners of her eyes mirror her husband's.

And a veteran sportswriter remembers again how uncomfortable Sandberg was with any clubhouse scrutiny, with anything that hinted at singling him out, with requests for deep thinking, with demands for difficult analysis, with -- to be blunt -- speaking at all.

What God had in mind with Ryne Sandberg was a nice guy. An uncomplicated guy. An athletic guy.

A ballplayer.

"As all of you might know,'' he said again, smiling, blushing, "I didn't talk too much.''

But so what?

So freaking what?

Rule No. 5 on my balloting instructions says: "Voting shall be based upon the player's record, playing ability, integrity, sportsmanship, character and contributions to the team(s) on which the player played.''

Got a problem with any of those qualities regarding Sandberg?

Credits Frey

Sandberg even said he wants long-gone Cubs manager Jim Frey to present him for induction into the Hall during next summer's ceremony.

Why? Because Frey "was instrumental in me going to another level of play.''

Because in 1984 Frey convinced the shy, spray-hitting Sandberg that he was big enough and whip-strong enough to pull the ball hard, to jack it onto Waveland Avenue where the boppers put it.

Sandberg, who played until 1997, even feels that he is older than he is, a relic from another, simpler, less-bombastic era.

"Retiring in 1997, a lot of this new era started the very next year, '98,'' he said. "I watched games not being able to comprehend what was going on.''

All the inflated biceps and swollen necks and massive egos blew his mind.

Ryne Sandberg on steroids? The mind reels with the impossibility.

But Sandberg's own mind reels with the concept of him in the Hall of Fame, alongside Ruth and Mantle and Aaron and the gods of his youth.

He had no idea he was good enough, he insists, never even dreamed of something so outrageous while he was playing.

But now he is certifiably a Cooperstown resident, and I remind him that Hall members are sports royalty in this country and that for the rest of his days fans will look to him for inspiration, thoughtfulness, philosophy even.

"I may have to get some theories together,'' he said, chuckling with a lot less of that old discomfort. "Invent something.''

Heck, he's already got a patent on nice.

Copyright © The Sun-Times Company
---
Frey will be just spectator after Hall presenter mixup
By Fred Mitchell
Tribune staff reporter
January 6, 2005, 10:08 PM CST
LINK
Well, at least the thought was there.
As it turns out, Jim Frey will not present Ryne Sandberg at his July 31 induction ceremony in Cooperstown, N.Y. Apparently, Baseball Hall of Fame protocol doesn't allow for presenters.
Frey, who said earlier this week he had canceled a trip to Scotland to present Sandberg, still plans to attend the induction.
"Ryno called Jim from the airport in New York and let him know about the change," Frey's wife, Joan, said Thursday. "Jim said he was disappointed, but he is still planning on going to Cooperstown. We will both be there."
Jeff Idelson, vice president for communication and education for the Baseball Hall of Fame and Museum, informed Sandberg of the established procedure.
"I think Ryno answered a question in Chicago (during Tuesday's news conference) on his way to New York from someone who told him there were presenters," Idelson said.
Unlike inductions at the Pro Football Hall of Fame, at Cooperstown, the Hall of Fame's chairman welcomes the new Hall of Famer to the class and Commissioner Bud Selig stands alongside to read the inscription on the plaque.
"It is a different setup than other sports," Idelson said.
Copyright © 2005, The Chicago Tribune
---
Ryno-mite!
It's close, but 3rd time the charm for Sandberg
By Paul Sullivan
Tribune staff reporter
January 4, 2005, 11:21 PM CST
LINK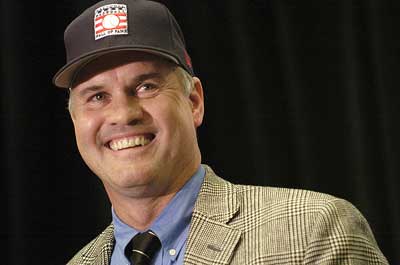 In an era when superstars preferred to speak loudly while carrying a big stick, Ryne Sandberg was a notable exception.
Sandberg's refusal to call attention to himself may have hurt his chances of becoming a first-ballot Hall of Famer, despite nine straight Gold Gloves, 10 consecutive All-Star appearances and a flair for the dramatic in the national spotlight.
But Sandberg's wait ended Tuesday when the soft-spoken Cubs star was elected to the Baseball Hall of Fame in his third year on the ballot.
Sandberg and five-time American League batting champion Wade Boggs were the only two players voted in as the Class of 2005 and will be inducted in ceremonies July 31 at Cooperstown, N.Y.
For Sandberg, election to the Hall helped ease the disappointment of never reaching the World Series during his standout 16-year career.
"One of my goals 20 years ago was playing in a World Series or winning a World Series, but unfortunately that was not to happen for me in Chicago," Sandberg said. "Today, this puts an exclamation point on [my career] and diminishes the frustration I had for so many years. I'd call it some type of closure and tremendous satisfaction."
Sandberg received 393 votes, or 76.2 percent of the record 516 ballots cast by members of the Baseball Writers Association of America. A player must receive 75 percent to gain inclusion, meaning Sandberg made it by a mere six votes, tied for the 12th-slimmest margin in history.
Boggs received the third-most votes in history (474), and was named on 91.86 percent of the ballots. Only Nolan Ryan (491) and George Brett (488) received more total votes than Boggs, who became the 41st player elected in his first year of eligibility.
Sandberg was considered a shoo-in for the Hall when he retired for good after the 1997 season. He hit 277 of his lifetime 282 home runs as a second baseman, making him the career leader at his position. He since has been surpassed by Jeff Kent.
But Sandberg's calling card was his sterling defense, which helped make him a perennial All-Star and Gold Glove winner.
His .989 fielding percentage is the highest of any second baseman. He also holds major-league records for consecutive error-free games in a season (90 straight in 1989) and over two seasons (123 games in 1989-90).
"Defense had everything to do with me getting into the Hall of Fame," Sandberg said. "My defense was what helped me break into the major leagues when I did. I earned an everyday job at age 22 as the starting third baseman. I started out 0-for-30 or 1-for-31, but my defense was solid and they kept me in the lineup.
"I always took a lot pride in defense. Winning that first Gold Glove in 1983 set the tone. That was the level I wanted to maintain."
Sandberg was sometimes criticized for not getting his uniform dirty by diving for balls. But it was his peers who voted for the Gold Glove awards, who realized his range was so good he didn't have to dive.
"I had tremendous range when I played," Sandberg said. "I was very quick, I got to balls behind second base, got to balls behind the first baseman. … I used my range to make plays on balls I didn't have to dive for. To dive for no reason when you can't get an out or you're not going to prevent a run, to me, is not worth anything."
Though Sandberg was known as a quiet, humble player, his teammates knew he also had a mischievous side.
"Most people didn't realize he liked to light peoples' shoes on fire," recalled former Cubs teammate Shawon Dunston. "He'd light a match, and all of a sudden everyone was screaming. Everyone thought it was me, but we caught him doing it."
Sandberg was an established star by the time Dunston reached the Cubs for good and he became the young shortstop's role model.
"What I really liked about Ryno was how he approached the game as a professional," Dunston said. "I watched everything he did.
"I'm smiling and very happy inside," Dunston added. "After the first time on the ballot, it wasn't looking too good. But like they say, the third time's a charm. Now we're waiting on Andre [Dawson]."
Dawson remains a long-shot Hall candidate in spite of his 438 career home runs and eight Gold Gloves. The former Cubs right fielder finished sixth in this year's balloting with 270 votes, or 52.3 percent, a slight increase over his 2004 totals of 253 votes (50 percent).
"When he retired, I was under the impression he was a Hall of Fame-caliber player," Sandberg said of Dawson. "He was in the 400-400 club, home runs and stolen bases, and that's a very limited crowd. … In his MVP season of '87 he hit 49 home runs, and it seemed like he was hitting a home run every other day. A couple of years ago, that would be about 75 home runs. In my book he's a Hall of Famer."
Sandberg grew up in Spokane, Wash., and was drafted by the Phillies, who included him in the deal that sent shortstop Larry Bowa to the Cubs before the 1982 season. He became a Cubs legend with one memorable, nationally televised game on June 23, 1984, his MVP season, hitting two game-tying home runs off All-Star closer Bruce Sutter in the Cubs' extra-inning victory over St. Louis at Wrigley Field.
After the game, Cardinals manager Whitey Herzog referred to Sandberg as "Baby Ruth" and called it one of the greatest performances he had seen.
"That was a game everybody brings to my attention," Sandberg said. "They always ask about the game against Bruce Sutter. If Bruce Sutter was not a top-line, Hall of Fame pitcher, I don't think that game would have meant anything. That game speaks to the type of pitcher he was, and to me, he should be in the Hall of Fame."
Sutter, another former Cubs star, finished third in this year's balloting with 344 votes, or 66.7 percent. He is gaining ground in his 12th year on the ballot and could jump in next year with a less than stellar list of newly eligible players.
Sandberg, bogged down by personal problems stemming from a messy divorce, abruptly retired early in the 1994 season, only to re-marry and return to the Cubs in '96. He played two more seasons before calling it quits again.
"The Hall of Fame was never really a goal of mine," Sandberg said. "My goal as I was playing was to try and win a championship with the Chicago Cubs and be the best player I could be. At the time of the first retirement, I had personal issues. … I felt I couldn't play up to the level of play I expected of myself and everyone expected of me.
"I retired, and a short time after that I decided I had some baseball left in me. At the age of 37, 38, I gave it another shot. All for the love of baseball and leaving on my own terms."
Amid Tuesday's commotion, Sandberg admitted he hadn't given much thought to who would introduce him at the Cooperstown induction ceremony, though he later said the manager who urged him to hit for power, Jim Frey, would be the one.
"I'm just trying to pick a sport coat and finish this tornado ride," he said. "This is the most I've ever talked on the telephone. I've had calls from Don Zimmer, Larry Bowa, Jim Hendry. … It has been incredible. I'm enjoying this and getting hoarse in my voice."
Copyright © 2005, The Chicago Tribune
---
No slash and dash, just a wonderful ballplayer
By Mike Downey
"In the wake of the News"
Chicago Tribune
January 5, 2005
LINK
He did not have a unique batting style or stance that Little Leaguers could mimic, didn't grip a bat in an unorthodox manner the way Ernie Banks did, didn't swing fluidly and gracefully the way Billy Williams did, didn't dig in and rip from the heels as Sammy Sosa does.
He was not immortalized in verse the way Joe Tinker, Johnny Evers and Frank Chance were, wasn't a screwball like Dizzy Dean, a flake like Rube Waddell, a bigot like Cap Anson, a boozer like Grover Cleveland Alexander or a freak of nature like Mordecai "Three Finger" Brown.
He is not known for knocking in runs as Hack Wilson is, for astronomical batting averages as Rogers Hornsby is, for a deadly accurate throwing arm as Gabby Hartnett is, for cunning baserunning as Lou Brock is.
No, not Ryne Sandberg.
Unlike these other Hall of Famers who once played for the Cubs—or Sosa, who can be expected to join him in enshrinement some day—Sandberg's identity, what makes him extraordinary, what sets him apart, remains unclear to this day to even his most ardent and attentive fans.
Was he the strongest, the swiftest, the most spectacular? No, no and definitely not. Did he play the longest? No, and, in fact, he even took a sabbatical while still in his prime.
Did he captivate the public with the force of his personality? Sweet-talk you a la Ernie? Click his heels for you like Ron Santo? Growl and roar at you like Leo Durocher? No way, to the extent that many a lifelong Cubs fan could hear Sandberg's voice on a radio and not be able to identify who was speaking.
If this second baseman, who Tuesday made it to Cooperstown on his third try, had a defining characteristic, it was a rock-steady consistency. He gloved the ball. He threw the guy out. He made the play. He got the hit. He played the game hard. He played it smart.
This was no wild man. He didn't charge at the game like, OK, a rhino. Sandberg wasn't about raw aggression or swashbuckling pizzazz. He didn't stampede toward you helmet-first like Pete Rose or do back flips like Ozzie Smith. He didn't swagger like Reggie Jackson or strut like Jim Palmer.
He simply played the game.
Played it as it was meant to be played—with dedication and determination and a highly becoming modesty. With a textbook skill that involved blocking a ground ball with your body to keep it in front of you or taking a pitch even when a coach has given you a green light, arts lost on too many of today's strategically impaired stars.
Nondescript in style, Sandberg was a ballplayer's ballplayer, the kind to whom a Carl Yastrzemski or a Cal Ripken Jr. or a Tony Gwynn could relate, a workman punching a clock, putting in a solid eight-hour shift and going home without causing his employers a single minute's distress.
Like those honorable men, Sandberg also sided with one team, one town for most of his days in uniform. Doubtless he could have improved his odds of earning a diamond ring by defecting to another organization early in his career, but in the end, this was a true-blue Cub through and through.
When he renewed acquaintances with the Cubs in 1996 after reconsidering a Michael Jordan-like early retirement, a Los Angeles Times columnist—ahem—had the audacity to write: "On his Hall of Fame plaque at Cooperstown, under Sandberg's name, somebody is going to write: 'Glutton for Punishment.'"
No, somebody won't.
Somebody instead is going to etch in bronze: "Ryne Dee Sandberg, 2B for Chicago Cubs, 1982-94 and 1996-97, National League MVP in 1984, retired with more home runs (277) than any second baseman, ranks No. 1 all-time for highest fielding percentage by a second baseman, nine Gold Gloves, 10-time All-Star."
Mr. Consistency.
That was his trademark. This is his legacy. Ryne Sandberg … not the greatest this or the greatest that, but truly now, genuinely so, deservedly so, one of the greats.
Copyright © 2005, The Chicago Tribune
---
Quiet consistency a Ryno trademark
By Fred Mitchell
Tribune staff reporter
January 4, 2005, 9:21 PM CST
LINK
It would take a monumental event to get a rise out of Ryne Sandberg.
Winning a division title?
Nah.
Capturing the National League Most Valuable Player award?
Well, maybe a modest grin.
Being named to baseball's Hall of Fame?
Now that was something that surely brought out some genuine emotion Tuesday from the former Cubs second baseman.
I recall seeing Sandberg's former teammate, gregarious first baseman Leon Durham, trying to get Sandberg to let his hair down after the Cubs clinched the NL East title in Pittsburgh on Sept. 24, 1984. After Sandberg gave him an arms-length embrace in the champagne-drenched clubhouse, Durham shouted: "Come on, man! Give it up!"
Sandberg's laid-back demeanor probably was the result of his father being a mortician in Spokane, Wash. Sandberg was taught to be respectful and reserved. His quiet consistency would become an asset on the ballfield.
Sandberg got his first name after his parents watched former Yankees pitcher Ryne Duren perform in a game against the Twins in Minnesota. An older brother, Del, was named for former big-league outfielder Del Ennis.
As a youngster, Sandberg's idea of a good time was to go on annual camping trips to Thomas Lake with his family in search of a familiar frog he named "Tooly the Toad."
"We'd go to the same campsite and see the same people every year for two weeks," he said. "Fishing, swimming, hiking and just relaxing. For me, that was the big event of the year."
When it came to professional baseball, there was only a Los Angeles Dodgers Triple-A team in Spokane for Sandberg to watch as a youngster. He saw Bill Buckner play there and later became his teammate with the Cubs. An all-state athlete in football, basketball and baseball, Sandberg quickly carved his own niche as a prominent player. He turned down an offer to play quarterback at Washington State to sign a big-league contract with the Phillies organization.
Sandberg, who played for the Cubs in 1982-1994 and again in 1996-1997, was acquired in a trade from the Phillies as a throw-in in January 1982. Cubs general manager Dallas Green was proud of the trade that sent Ivan DeJesus to the Phillies and brought Sandberg and shortstop Larry Bowa to the Cubs.
After a slow start at the plate in 1982, Sandberg was nearly sent down to Triple-A Iowa before then-manager Lee Elia talked Green into sticking with Sandberg a little longer.
Veteran utility infielder Chris Speier, who will be the Cubs' third-base coach this season, was a teammate of Sandberg's in the mid-'80s. Speier tried to get Sandberg to come out of his hotel room more often on the road to enjoy the camaraderie of his teammates.
Sandberg has come a long way since his painfully shy days as a young big-league player. No doubt numerous endorsement opportunities will come his way with his enhanced credentials as a Hall of Famer. He comes across more polished and comfortable in front of the camera lights these days, realizing his celebrity and the role of the media go hand in hand .
Like most former Cubs, Sandberg could not escape the Cubs' postseason hex. His Cubs teams lost in the playoffs in 1984 and 1989, but he hit .385 with seven extra-base hits in 10 playoff games.
On June 23, 1984, Sandberg enjoyed his most memorable game, driving in seven runs in a 12-11 win over the Cardinals. He tied the game twice with home runs off relief ace Bruce Sutter in the ninth and 10th innings.
St. Louis manager Whitey Herzog said: "One day I think he was one of the best players in the National League. The next day, I think he's one of the best players I've ever seen."
Herzog also referred to Sandberg that day as "Baby Ruth."
From this day on, Sandberg can be referred to as a Hall of Famer.
Now that's something to get excited about, Ryno.
Fred Mitchell covered the Cubs for the Tribune in 1983-88 and wrote a Ryne Sandberg biography "Ryno" in 1985.
Copyright © 2005, The Chicago Tribune
---
Hail To Ryno
A Chicago Tribune Editorial
January 5, 2005
LINK

The best second baseman ever for the Chicago Cubs, one of the best ever to play the game, has now become one for the baseball ages. Ryne Sandberg, the Cubs' very own Ryno, was elected to the Baseball Hall of Fame Tuesday in his third year on the ballot.
How sweet is this? It more than makes up for the shock Ryno's fans experienced in 1999 when he was omitted from the Major League Baseball ballot for the All-Century Team. He wasn't even considered back then for the best second basemen of the last century. Ha! Now's he's in the Hall, where he belongs.
His stats speak for themselves: He hit more home runs than any other second baseman in history--282--and his .989 fielding percentage also is a record for his position. He was a 10-time National League All-Star and won nine consecutive Gold Gloves, starting in 1983. He once went 123 straight games without an error, a record for his position. In four seasons, he committed not a single throwing error. Sandberg retired in 1997 as a career .285 hitter.
In what has come to be known simply as "The Sandberg Game," against the St. Louis Cardinals on June 23, 1984, he hit two dramatic game-tying home runs in consecutive innings off Cardinals reliever (and former Cub) Bruce Sutter. The Cubs went on to win 12-11 in 11 innings--one memorable game in that memorable season, when the team won the National League East title. Sutter, by the way, fell just short of being elected to the Hall this year.
Alas, as Cubs fans well know, for the most part Sandberg outshone his team. He spent all but one year of his 16-year career with the Cubs, and in only three of those seasons did the Cubs post a winning record.
Win or lose, Sandberg always sparkled--on and off the diamond. He was never a prima donna, was never one to make a habit of tossing a bat or storming off the field. He was, quite simply, a consummate professional. He retired for the first time in 1994, walking away in mid-contract from about $17 million because he could no longer play at the Sandberg level. He came back for two more seasons, and he was good, but not at the Sandberg level. He retired again in 1997.
With Sandberg and Boston Red Sox third baseman Wade Boggs, the only other player elected this year, the Hall's elite ranks swell to 260. They are the best of the best of baseball.
Even in retirement, Ryno is still held close by Chicago Cubs fans. Now he is where he has always belonged, where all Chicago (come on, even White Sox fans have to acknowledge it) and the world know he belongs. He's a Hall of Famer.
Now, about Ron Santo ...
Copyright © 2005, The Chicago Tribune
---
Ryno's Resume
By Chris Kuc
Tribune staff reporter
January 5, 2005
LINK

Throughout his 16 years in the majors, Ryne Sandberg won the 1984 NL MVP and was selected to 10 straight All-Star teams. Tribune reporter Chris Kuc recounts the moments that added up to a Hall-of-Fame.
Career highlights
1981
Philadelphia
Sept. 2: Sandberg makes his major-league debut as a pinch-runner and scores a run in the Phillies' 3-2 loss to the Braves.
Sept. 27: Sandberg records his first hit for the Phillies--a single off the Cubs' Mike Krukow--in the second game of a doubleheader at Wrigley Field.
1982
Chicago
April 5: Third baseman Sandberg goes 0-for-3 hitting seventh in his Cubs debut, a 3-2 loss to Reds.
April 13: Sandberg gets first hit as a Cub, a fifth-inning single off Joaquin Andujar in a 4-3 loss to the Cardinals at Wrigley Field. Through seven games, Sandberg is hitting .043 with one run scored.
April 23: Sandberg's first homer is launched off Pittsburgh starter Eddie Solomon and lands on Waveland Avenue. His second comes to rest in the right-center-field bleachers. He reaches base five straight times in a 12-10 loss to the Pirates. "I hit both of them pretty good," the 22-year-old Sandberg says after the game. "Earlier in the season I was getting out in front of the ball, not making solid contact."
Sept. 4: In his first of 1,994 games at second base for the Cubs, Sandberg goes 0-for-4 in a 12-4 loss to the Padres in San Diego.
1984
June 24: In what is now known as "The Sandberg Game," he goes 5-for-6 with two homers and seven RBIs in the Cubs' 12-11 victory over the Cardinals in 11 innings.
Sandberg ties the game in the bottom of the ninth with a homer off Cardinals closer Bruce Sutter. In the 10th, Sandberg homers again off the reliever.
"I'm in a state of shock," Sandberg says afterward. "I don't even know what day it is. I was going up there thinking about pulling the ball against Sutter. I wasn't even thinking about hitting one out."
Sandberg had been 1-for-10 lifetime against Sutter.
Sept. 24: Sandberg goes 2-for-5 as the Cubs defeat Pittsburgh 4-1 to clinch the NL East. before falling to the Padres in the playoffs.
"We went from the bottom to the top in a hurry," Sandberg says. "It's some accomplishment for everybody and something people in Chicago ought to be excited about."
He finishes the '84 season with a .314 average, 19 homers and 84 RBIs and earns the National League's Most Valuable Player award.
1990
May 19: Sees his record streak of errorless games (123) and chances (582) end when he throws low to Mark Grace in a 7-0 victory over Houston. "I didn't know how to react," he says. "If anything, I was a little relieved."
Aug. 28: Sandberg rips an 0-2 pitch from Bill Gullickson for his 30th homer of the year, becoming the first second baseman in history to hit 30 home runs two years in a row.
1994
June 10: Sandberg goes 0-for-4, dropping his average to .238. Three days later he announces he is retiring from baseball.
1997
April 27: Hits his 267th career home run in the second inning of a 7-6 victory over the Pirates, breaking Hall-of-Famer Joe Morgan's career mark for homers by a second baseman.
Sept. 28: In his last major-league game, Sandberg goes 0-for-2 before being replaced by Miguel Cairo. "It's hard to put everything into words. I'm somewhat relieved, and there's some sadness. I'll just sit back and think about a lot of the memories I had here and in baseball."
Second basemen in the Hall
Ryne Sandberg
Rod Carew
Eddie Collins
Bobby Doerr
Johnny Evers
Nellie Fox
Frankie Frisch
Charlie Gehringer
Billy Herman
Rogers Hornsby
Nap Lajoie
Tony Lazzeri
Bill Mazeroski
Bid McPhee
Joe Morgan
Jackie Robinson
Red Schoendienst
At the plate
277
HOME RUNS as a second basemen, a record for second basemen when he retired, Sandberg was passed by Jeff Kent last year
.385
BATTING AVGERAGE in 39 NLCS at-bats, with 6 RBIs, 1 HR and 7 extra-base hits
.300+
BATTING AVERAGE for five of his 16 seasons in the majors
In the field
9
GOLD GLOVES won consecutively, 1983-91
123
CONSECUTIVE GAMES without an error by a second baseman, a major-league record
12 ASSISTS in a nine-inning game, a major-league record for second basemen he shares
Copyright © 2005, The Chicago Tribune
---
How Sandberg got here nearly as classic as career
Jerome Holtzman
Chicago Tribune
September 21, 1997
LINK
Here is former Tribune baseball writer Jerome Holtzman's column the day after Ryne Sandberg Day at Wrigley Field in 1997.
Now that the moment is approaching to say goodbye to Ryne Sandberg, it's probably a good time to try to explain how he came to the Cubs and why. There is more to the story than the agate line--"Traded to the Cubs with shortstop Larry Bowa, Jan. 27, 1982, from Philadelphia for shortstop Ivan DeJesus."
The Phillies had acquired Sandberg in June 1978 in the annual summer draft of amateur free agents. He spent his first three full seasons in the minors. In '81, at Oklahoma City, the Phillies' top farm club, he was the American Association's All-Star shortstop.
Obviously a promising prospect, he was a September callup and finished the season with the Phillies. Aware he needed more experience, the Philadelphia brass recommended he play winter ball in Venezuela.
Bobby Wine, then a Philadelphia coach, also was dispatched to Venezuela. A former big-league infielder, Wine would manage the club and watch over Sandberg, along with four or five other Phillies farmhands.
"He wasn't too happy about playing winter ball," recalled Wine, now an advance scout for the Atlanta Braves. "He wanted to go home. A lot of guys wanted to go home. He struggled and didn't play that well."
When Wine returned to Philadelphia, he was convinced Sandberg wouldn't be a successful major-league shortstop. Ruben Amaro, the general manager at Venezuela, who also had been a big-league shortstop, agreed.
"That's when the Phillies decided to move him," Wine said.
Three months earlier, on Oct. 15, 1981, Andrew J. McKenna, the newly appointed chairman and president of the Cubs, hired Dallas Green as general manager. A mediocre pitcher, Green was a baseball lifer: 24 years with the Phillies, mostly as the director of player personnel.
At about this time, Bill Giles, the Phillies' part-owner and club president, told General Manager Paul Owens to trade Bowa, a veteran shortstop.
Owens called Green in Chicago. They were old friends. Green had been his understudy in Philadelphia before he managed the Phillies to the World Series title in 1980. Owens, or perhaps it was Green, proposed a deal: Bowa for DeJesus, who was seven years younger and a capable shortstop.
The rest of the story is open to debate. Green, who knew all the players in the Phillies' system, held out for Sandberg. Owens agreed and threw Sandberg into the deal. Sandberg blossomed into a star in 1984 when he was named the National League's most valuable player.
The belief then, which was uncontested, was that Sandberg, not Bowa, was the player Green wanted. To this day, Green is largely credited for swinging one of the best deals in Cubs history.
But there is another version. Some insiders insist that the extra player Green was after was Luis Aguayo, a slick-fielding shortstop who was being groomed as Bowa's successor. At that time, Aguayo had a much higher profile than Sandberg and was regarded as a "sure-fire" prospect.
Green asked for Aguayo. Giles and Owens refused to part with Aguayo. Green then settled on Sandberg.
Whatever, it turned out to be a master stroke. Aguayo never lived up to his notices. He had a modest 10-year big-league career and played in 568 games, an average of 57 games a year.
Initially, Sandberg was not a smash. Playing third base his first year in Chicago, he batted .271 with seven homers. He followed that with .261 and eight homers while playing second the next year. He won his first Gold Glove and since has been baseball's premier second baseman.
It was Jim Frey in '84, then in his first season as the Cubs' manager, who turned Sandberg into a power hitter. After watching Sandberg in spring training, Frey told him he was strong enough to swing for the long ball.
"I hit nothing but ground balls. That's what I did the first two years," Sandberg recalled at Wrigley Field on Friday.
Only a minor adjustment was needed. Frey told him to turn on the ball.
"He told me when I was ahead on the count, I should try and hit foul balls down the third base line," he said.
It worked. He hit a home run in the second game of the season, in San Francisco. No. 2 came in San Diego two nights later. The rest of the story is uncontested.
Copyright © 2005, The Chicago Tribune
---
Ryne thanks fans for 'field of dreams'
By Bill Jauss
Tribune Staff Reporter
Chicago Tribune
September 21, 1997
LINK
Here is Bill Jauss' story on Ryne Sandberg Day in 1997.
Never regarded as much of a speechmaker, Ryne Sandberg wowed a capacity Wrigley Field crowd Saturday with a dozen choice words.
"I truly lived my field of dreams right here at Wrigley Field," Sandberg said.
Then, while white and blue balloons climbed in the sky and the public-address system played Nat "King" Cole's "Unforgettable," Sandberg, his wife, Margaret, and their five children jogged and walked a farewell lap around the ballpark that's been Sandberg's personal "Field of Dreams" for the last 15 years.
"Every athlete dreams of having his career end on a day like this," said Sandberg at a pregame home plate ceremony. The Cubs and fans honored the 38-year-old Hall of Fame-bound second baseman who will retire as a player at season's end next weekend.
"The balloons, the whole thing was incredible. An unbelievable, special day for me," Sandberg said. "I'll never forget it."
The only sour note about Ryne Sandberg Day was that the Cubs blew a 2-0 lead in the ninth and lost 3-2 to the Phillies.
"I wanted to give something back to the fans. They're the best," Sandberg said. "It would have been nice. It just didn't happen."
The Cubs and fans saluted Sandberg with words and with gifts.
Cubs broadcaster Harry Caray said, "He's the greatest second baseman that ever lived."
Sandberg's teammates presented him and Margaret a five-day ski vacation in Colorado . . . and a pair of crutches that Bob Patterson and Sammy Sosa carried to home plate. Cubs management gave Sandberg a new red Corvette.
Copyright © 2005, The Chicago Tribune
---


Sandberg gets call
January 5, 2005
BY CHRIS DE LUCA STAFF REPORTER
Chicago Sun-Times
Link
Ryne Sandberg appeared in 2,164 regular-season games during his career in the major leagues, but one during a Wrigley Field afternoon 20 years ago against the hated St. Louis Cardinals most defines his Hall of Fame career.
Sandberg, a former ground-ball hitter just maturing into one of the best power-hitting second basemen of all time, put on a show in front of a national-television audience and a delirious crowd at Wrigley. He went 5-for-6 with seven RBI and belted tying home runs in the ninth and 10th innings off closer Bruce Sutter, stealing the limelight from the Cards' Willie McGee, who hit for the cycle.
''That particular game catapulted me and let me know I could play at a different level than I thought I could play at,'' Sandberg said Tuesday from Phoenix, shortly after hearing he had been elected to the National Baseball Hall of Fame.
All-Star voters definitely noticed because ballots started flooding in to push Sandberg from No. 2 among NL second basemen into the starting lineup for the 1984 All-Star Game, his first of 10 consecutive appearances.
With no World Series experiences to recall, Sandberg picked the Cubs' 12-11 victory over the Cardinals on June 23, 1984, as the most memorable of his more than 15 seasons in the majors leagues.
''Fans come up to me all the time and want to talk about that game,'' Sandberg said. ''They tell me where they were. They were either driving in a car listening to it on the radio or watching on national TV, and they were calling their friends, saying, 'You have to turn this game on.' To do it off a pitcher the caliber of Bruce Sutter makes the story that more magnified. In my book, Bruce Sutter is a Hall of Fame pitcher.''
Not yet -- not after Sutter fell short again in his 12th year on the ballot.
Sandberg, 45, got in on his third try -- not bad for a player who many thought ruined his Hall of Fame status when he abruptly retired in June 1994 while going through a messy divorce and frustrated with the Cubs' losing ways under former general manager Larry Himes.
At the time of his first retirement, Sandberg was 34, but stuck in an awful slump, getting one hit in his final 28 at-bats to drop his average to .238 -- 71 points below the career average of .309 he had entering the season. That was enough frustration to cause him to walk away from about $15 million over the final two years of his contract.
There was talk that the early retirement also might cost Sandberg a shot at the Hall.
''When I retired the first time, it was for personal reasons,'' Sandberg said. ''To have a chance to go into the Hall of Fame was never really a goal of mine.''
But he returned for the 1996 season, retiring again after the 1997 season. Even without the two extra seasons, it was clear Sandberg had the goods to please Cooperstown.
He was a 10-time All-Star and a nine-time Gold Glove winner at second base. When he retired for good, his 277 home runs were the most by a second baseman until the Houston Astros' Jeff Kent broke the record during the final weekend of the 2004 season.
In 1990, Sandberg led the NL with 40 homers, proving that a second baseman could be a major power threat.
It's an idea that would have shocked 20th-round draft pick Ryne Dee Sandberg when he broke into the majors with the Philadelphia Phillies during the 1981 season. After getting six at-bats in 12 games with the Phillies as a 21-year-old, Sandberg was a toss-in to the trade that sent veteran shortstop Larry Bowa to the Cubs for shortstop Ivan DeJesus.
Originally a third baseman in Chicago, Sandberg became the Cubs' primary second baseman in 1983. During spring training before the 1984 season, new manager Jim Frey pulled Sandberg aside and told him he had the ability to be a legitimate power hitter in the majors.
''He asked me to do something no other coach or manager had asked me to do,'' Sandberg said. ''He felt I could hit for power and be more of an impact player.
''I hit a home run and had three hits on Opening Day and was off to my MVP season.''
Sandberg hit .314 with 19 home runs, 84 RBI and 32 stolen bases to help his team reach the NL Championship Series against the San Diego Padres, the Cubs' first visit to the postseason since 1945. In 1989, Sandberg hit 30 homers, and the Cubs were back in the NLCS. The next year, he led the league with 40 homers, becoming the first second baseman to reach that plateau since Rogers Hornsby did it in 1922.
''Jim Frey made a big difference in my career,'' Sandberg said.
And so did Wrigley Field, with its cozy confines suiting Sandberg's style perfectly.
Today's Cubs often grouse about day baseball, but Sandberg wouldn't have it any other way.
''Any time I was struggling, I knew I had a homestand coming up and I'd be back at Wrigley and I would get things going again because I just loved to play there,'' he said. ''From the moment I got to the ballpark, I knew all my games would be on WGN, Harry Caray and Steve Stone would be doing the games, all my relatives, family and friends would have a chance to watch me every day that I played, and that was a huge lift for me.
''I don't think there's a better atmosphere for a baseball player on a daily basis than the atmosphere at Wrigley Field. The crowds there, they are into it, they want to see baseball. And I enjoyed day baseball. I could always see the ball really well.''
For all of his offensive prowess, Sandberg said the foundation of his career was built around defense. He won nine Gold Gloves at second base, led the league in fielding four times among second basemen and led NL second basemen in assists in seven seasons. He had nine seasons of eight or fewer errors.
But some critics, including Dale Bowman in a Chicago Sun-Times commentary Sunday, ripped Sandberg for his suspect defense.
Bowman wrote: ''I saw more of Sandberg than any one human should have to suffer. It was bad enough to have to listen to collective love-sick sighs every time he came to bat. Even worse, as a fan, was watching Sandberg make it through entire seasons without getting his uniform dirty.''
Sandberg answered Bowman's criticism Tuesday.
''Defense had everything to do with me getting into the Hall of Fame,'' Sandberg said. ''Defense helped me to break into the major leagues. As far as any criticism, it was always said that I had tremendous range. I was very quick. I got to balls behind second base, behind the first baseman. I used my range to get to balls without having to dive.
''To dive for no reason, when you can't get an out or prevent a run scoring at home is, to me, not worth anything.''
His love for Wrigley is one reason he never seriously considered testing free agency.
''I had a couple of opportunities to have my contract run out and leave the Chicago Cubs,'' Sandberg said. ''Between myself and the organization, we always felt it was best not to let that happen. Really, there was no other place I wanted to go to. To be a home player at Wrigley Field and to play in the city of Chicago, for me, it doesn't get any better than that.
''I didn't want to go elsewhere and have the Cubs win it all because there would be no better place to win a World Series than in a Cubs uniform.''
And now Sandberg will make his first real visit to the National Baseball Hall of Fame. The Cubs appeared in a Hall of Fame game during Sandberg's playing days, but the team swooped in and out of Cooperstown so fast, Sandberg never visited the museum.
He will get a special tour July 31, when he is inducted along with Wade Boggs.
''I'm definitely looking forward to that opportunity,'' Sandberg said. ''I can't wait.''
FROM CHI-TOWN TO COOPERSTOWN
Ryne Sandberg became the latest player with strong Chicago ties to be voted into baseball's Hall of Fame. Here are the other players with at least five seasons with the Cubs or White Sox who have been inducted (HALL: year elected; CUBS: years with Cubs; SOX: years with White Sox):



CUBS

Player
HALL
Cubs

Grover Alexander
1938
1918-26

Cap Anson
1939
1876-97

Ernie Banks
1977
1953-71

Mordecai Brown
1949
1904-12, 1916

Frank Chance
1946
1898-1912

Kiki Cuyler
1968
1928-35

Johnny Evers
1946
1902-13

Clark Griffith
1946
1893-1900

Gabby Hartnett
1955
1922-40

Billy Herman
1975
1931-41

Fergie Jenkins
1991
1966-73,1982-83

King Kelly
1945
1880-86

Joe Tinker
1946
1902-12, 1916

Billy Williams
1987
1959-74

Hack Wilson
1979
1926-31




WHITE SOX

Player
HALL
SOX

Luis Aparicio
1984
1956-62,1968-70

Luke Appling
1964
1930-50

Eddie Collins
1939
1915-26

George Davis
1998
1902, 1904-09

Red Faber
1964
1914-33

Carlton Fisk
2000
1981-93

Nellie Fox
1997
1950-63

Harry Hooper
1971
1921-25

Ted Lyons
1955
1923-42, 1946

Ray Schalk
1955
1912-28

Ed Walsh
1946
1904-16

Hoyt Wilhelm
1985
1963-68

Early Wynn
1972
1958-62
SANDBERG CAREER STATS
*All with Cubs except 1981 (Phillies)
| | | |
| --- | --- | --- |
| Yr | ABRHHRRBI | AVG |
| 1981 | 62100 | .167 |
| 1982 | 635103172754 | .271 |
| 1983 | 63394165848 | .261 |
| 1984 | 6361142001984 | .314 |
| 1985 | 6091131862683 | .305 |
| 1986 | 627681781476 | .284 |
| 1987 | 523811541659 | .294 |
| 1988 | 618771631969 | .264 |
| 1989 | 6061041763076 | .290 |
| 1990 | 61511618840100 | .306 |
| 1991 | 58510417026100 | .291 |
| 1992 | 6121001862687 | .304 |
| 1993 | 45667141945 | .309 |
| 1994 | 2233653524 | .238 |
| 1996 | 554851352592 | .244 |
| 1997 | 447541181264 | .264 |
| Total | 8385 13182386 282 1061 | .285 |
NLCS
| | | |
| --- | --- | --- |
| Yr | ABRHHRRBI | AVG |
| 1984 | 193702 | .368 |
| 1989 | 206814 | .400 |
| Total | 3991516 | .385 |
*1984 vs. Padres; 1989 vs. Giants
Copyright © The Sun-Times Company
---
Dirty talk: Sandberg not Hall-worthy
January 2, 2005
BY DALE BOWMAN
Chicago Sun-Times
LINK
Ryne Sandberg made me a White Sox fan.
It's not a casual journey from the North Side to the South Side in Chicago baseball. It takes an outsider to do it. Just as it takes an outsider to objectively consider the place of Chicago players in baseball history.
Lord knows Cubs fans can't judge rationally.
Losing has made them loony. Their view of baseball immortality forever is linked to players from the years of yore in Cubs lore: 1969 (Ron Santo) or 1984 (Ryne Sandberg). Years, like always, the Cubs didn't reach the World Series.
Like thousands of others who came to the big city to make their mark, I landed as a 20-something in the North Side neighborhood of Lake View. From just off Racine, it was only blocks to Wrigley Field.
It was the glorious mid-1980s, and the Cubs of Ryno, Jodeeee, Sarge, Keith and Big Red. The Wrigley bleachers were the latest hot thing for young things.
I enjoyed my beer, baseball and babes as much as anyone. At the last baseball game Bill Veeck watched on this earth, I sat a few feet away from him in the center-field bleachers. The last season the Cubs played all day games at Wrigley, 1987, I went to 55.
I saw more of Sandberg than any one human should have to suffer. It was bad enough to have to listen to collective love-sick sighs every time he came to bat. Even worse, as a fan, was watching Sandberg make it through entire seasons without getting his uniform dirty.
The drivel I had to listen to from Cubs fans finally forced me to seek my baseball fix on the South Side.
For years, I dreaded when Sandberg would become eligible for the Hall of Fame. I knew Cubs fans would cry about how they were slighted once again.
Just to refresh my memory that Sandberg wasn't the greatest thing to pick up a glove at second, I crunched some numbers.
I compared Sandberg's fielding statistics with those of six other second basemen: the two best in the modern era (Jackie Robinson and Nellie Fox), two similar contemporaries (Tommy Herr and Juan Samuel), the best fielder of Sandberg's time (Jose Lind) and the man Cubs fans downgrade as Hall of Fame-worthy (Joe Morgan).
None of this is to say that Sandberg wasn't a good player. He was. Just not Hall of Fame-worthy.
Great fielders, Hall of Fame fielders, get to balls. For Sandberg fans, let me translate: That means diving for balls.
The best way to examine getting to balls is to look at real chances -- sum of putouts, assists and errors -- per game. In other words, how many balls a player reaches in a game.
In 2,295 games at second, Fox had 5.52 real chances per game. Robinson had 5.34 in 748 games at second. That's what Hall of Famers do. As fielders, Sandberg (5.15), Lind (5.14) and Morgan (5.13) were respectable.
And Sandberg had several advantages. He played behind great ground-ball pitchers, including one, Greg Maddux, who will be in the Hall of Fame. He played with one of the greatest fielding first basemen of his time in Mark Grace and a shortstop with excellent range and one of the greatest arms ever in Shawon Dunston.
If Sandberg had dirtied his uniform, he would have Hall of Fame fielding stats. Though diving more would mean he wouldn't own the errorless streak and his excellent .055 errors per game would not be as gaudy. Only Herr (.054) had fewer errors per game, but Herr didn't reach as many balls.
As it is, Sandberg has good but not great stats. All the players surveyed had more putouts per game. Sandberg had an outstanding 3.19 assists per game. All but Samuel had more double plays per game. (Samuel was a butcher with .138 errors per game.)
And please don't insult my baseball intelligence with that worthless stat that Sandberg hit the most homers as a second baseman. That's like saying Maddux belongs in the Hall because he is a great fielder. Maddux belongs because he's one of the greatest pitchers ever.
Sandberg was good, even graceful, but he was not one of the greatest second basemen ever.
The most damning stat for me? Sandberg led the Cubs to zero World Series. That's why the game is played, why Morgan belongs.
Enjoy memories of "Ryno, Ryno'' chants on warm August afternoons. Savor his heroics of June 23, 1984, against the Cardinals. But please don't sully the Hall of Fame with his bust.
The only way Sandberg should get in is as the blandest player in baseball history.
NO GLOVE LOST
A look at Ryne Sandberg's fielding statistics as compared to other second basemen:
| | | |
| --- | --- | --- |
| Player | G at 2ndPO/GA/GE/GDP/G | RC/G |
| Nellie Fox | 2,2952.652.78.091.71 | 5.52 |
| Jackie Robinson | 7482.512.74.091.81 | 5.34 |
| Ryne Sandberg | 1,9951.913.19.055.58 | 5.15 |
| Jose Lind | 1,0382.102.98.060.56 | 5.14 |
| Joe Morgan | 2,5272.272.76.097.60 | 5.13 |
| Juan Samuel | 1,1902.172.71.138.53 | 5.02 |
| Tommy Herr | 1,4162.072.82.054.70 | 4.95 |
Copyright © The Sun-Times Company